Visit Oxford
The city of the dreaming spires awaits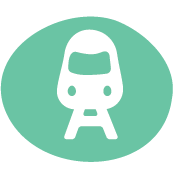 The unexpected architectural gem in Oxford
Oxford, home to one of the worlds' most celebrated universities, has been a centre of learning for centuries, with evidence of teaching dating back to 1096. The City boasts over 1500 listed buildings from every major period of British architecture from that time onwards. The University and its 38 constituent colleges both dominate and have helped to define the city's architecture and identity and there is much more than simply the beautiful 'dreaming spires' for visitors interested in architecture to explore. A favourite of film and television makers, artists and writers, it isn't hard to see why so many people have found inspiration here over the centuries!
Oxford offers visitors a huge choice of attractions and activities. It is a flat city with the majority of its main attractions (from world class museums, buildings, libraries and a castle to shops, music venues and parks) all easily reachable on foot. Oxford is also a hugely vibrant city with a multicultural community supporting lively arts, food and entertainment scenes.
Open-top bus and walking tours are extremely popular activities and the more adventurous visitor can take to the river via one of Oxford's world-famous punts. There are also botanical gardens, a wealth of theatres and tea shops, plus famous locations (such as the Iffley Road Track where Roger Bannister set the world's first sub- 4 minute mile) to visit.
Oxford's beautiful parks, most of which are just a short walk from both the city centre and St Catherine's, are perfect for a leisurely stroll, run or just for a peaceful moment sat by the river.
A short distance outside the city lie the beautiful Cotswolds as well as further attractions such as Blenheim Palace and Stratford-Upon-Avon (birthplace of William Shakespeare).
Oxford has excellent transportation links to and from London (and the London airports) as well as from the rest of the UK via rail and bus connections. Although parking within the city limits is extremely restricted, there are several excellent 'park and ride' services based around the edges of the city ready to shuttle visitors into the centre with ease.
Whatever your interests, Oxford has something for you and is a wonderful city to explore. The Visitor Information Centre on Broad Street is an excellent first port of call for further information, as are the following web sites:
"Most colleges in Oxford are surrounded by high walls but St Catherine's lies open, and when I came here for the first time, I couldnt understand why the student's gowns often were so torn. I was told that they used them to place on broken glass on top of the walls, when they came back late. So I dropped the wall. Politiken, 24 July 1964"
Arne Jacobsen on his design for the College walls